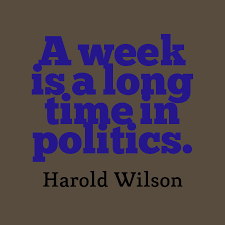 A week is a long time in politics. That has definitely been the case in NZ, with a new PM Bill English and deputy PM Paula Bennett installed following John Key's shock announcement to step down.  The days after Key's announcement saw excitement amongst opposition parties as they recalibrated upwards their chances of success next year, and also revealed some previously unseen divisions in the National party caucus, as the major contenders for leadership roles (at least in their own eyes) jockeyed for position.
But in the end it was a swift and uncontested coronation for both English and Bennett, with Stephen Joyce picking up the role of Finance Minister.  On the economic front, we can expect a continuation of current policies without too many major changes.  However, the new leadership role provides English a timely opportunity before next year's election to refresh his cabinet ministers, and cull under-performers.  Watch to see the winners and losers over the next couple of weeks.  
In his former role of Finance Minister, English also delivered last week's half yearly fiscal and economic update.  This generally painted a positive picture for the NZ economy going forwards.  Of particular interest was the forecast of increasing budget surpluses over coming years – even after absorbing the costs of the Kaikoura earthquake – which provides the government with interesting options: increase social spending and/or reduce taxes.  The next budget should be interesting.
The economic update also forecast capital spending to climb from $900m this year to $3 billion next year, and over $2 billion in years thereafter.  Expect the bulk of this spending to be in areas like education, defence, and housing, with a priority being measures to accommodate NZs surging population, which increased by 70k in 2016, with further strong immigration-led population growth forecast for future years.
A growing population certainly helps to underpin the forecasts for GDP growth of around 3% per annum to 2020 (one of the strongest in the developed world).  But large inward migration also creates challenges in assimilating new arrivals, and the accompanying social tensions.  Expect to see immigration as a hot election topic in 2017.
On the housing front, there are two conflicting forces at play.  On one side, a growing population will require housing and place further pressure on supply.  Countering this, expect to see increases in mortgage rates in 2017 as global (and NZ) interest rates increase.  For property investors, if mortgage repayments exceed rental income, some (maybe many) may exit the market, and reduce housing demand.  It's difficult to predict with any confidence the net impact of these opposing forces on house prices, but my gut feeling is that a sustained period of flat house price growth is the most likely scenario.  Expect housing affordability to be another hot election topic next year.
With an election looming, new National Party leadership, a reinvigorated opposition, budget surpluses available, and big issues like immigration and housing affordability, 2017 is shaping up to be a fascinating year in politics!
Dean Edwards